#STAYmONday - live event on Facebook that closes #StayON il April 13 will be in support of D.i.Re, Women networked against violence, with one live fundraising su www.retedeldono.it/it/progetti/d.i.re/ free-from-violence to support the anti-violence centers that have remained active even in this period of quarantine and continue to provide support to women who suffer violence and their children.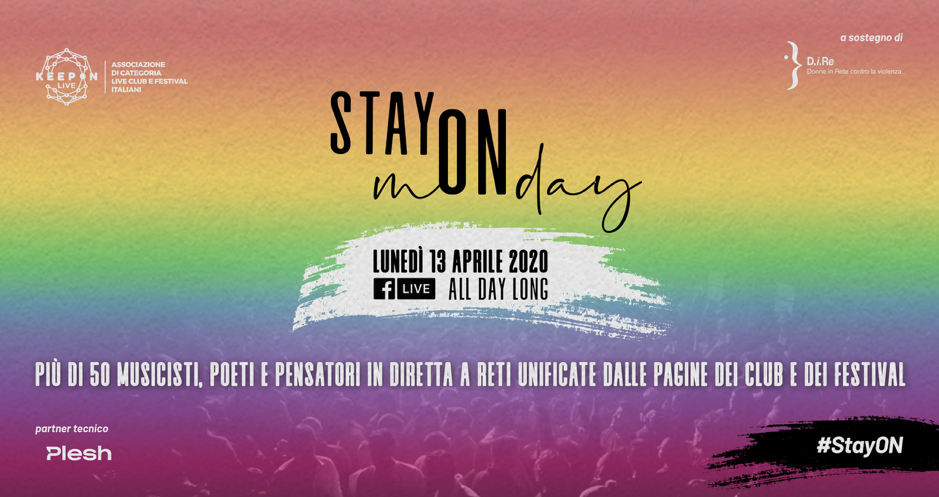 #StayON - the movement born from Live Club and Festival of the entire peninsula coordinated by KeepOn Live - Italian Live Clubs and Festivals Category Association and from Monday 16 March has given birth to more than 650 streaming events - schedule for the 13 April, Easter Monday, #STAYmONday: a single big closing event with about 50 realities from the world of live music that will broadcast live streaming to unified networks, paired with a fundraiser for D.i.Re Women on the net against violence.
Donations will be possible via the official link:
www.retedeldono.it/it/progetti/d.i.re/ free-from-violence
The world of music is made up of stages and live shows that need a lot of behind-the-scenes work to go on stage. Right now the real stages are at a standstill: #StayON has tried to keep them alive in a virtual way. The parallelism with everyday life is fitting: public life - "the stage" - made up of meetings, outdoor walks, travel and conviviality is still, what remains is only the "behind the scenes", the " behind the front door ". In this time of health crisis, our homes are safe places.
Staying at home is a civil duty above all. Unfortunately for women victims of domestic violence that #iorestoacasa can be a sentence: home can become for them a place of constant oppression, control and denigration, where the risk to their safety and to their own life increases. But the anti-violence centers of the network D.i.Re they are always active to find a way out.
"Thanks to #StayON for thinking about D.i.Re. Music is a powerful tool for letting women know that we are there and we don't leave them alone. At a time like this it is important to get the message across that violence against women affects thousands of women in Italy 365 days a year. The anti-violence centers are essential garrisons that face great difficulties, but they have never stopped. Today as yesterday we support women in regaining their autonomy and freedom ". Antonella Veltri, president of D.i.Re
On an Easter Monday that will not allow us to get together to spend the day together playing, singing and dancing in company, #STAYmONday wants to recreate an atmosphere of sharing through a twelve hour marathon - from 11.00 to 23.00 - of music, theater and words on the virtual stages that have joined #StayON. The artistic direction of the event is entrusted to Roy paci e Rodrigo D'Erasmo.
Have already joined #STAYmONday Angelica, Brunori, Bianco Cance, Caterina, Ascanio Celestini, Dente, Dimartino, Diodato, Chiara Effe, Eugenio in Via di Gioia, Fadi, Enrico Gabrielli, Leo Gassmann, Enzo Savastano, Flamingo, Frankie Hi-Nrg, Ghemon, Giovanni Succi, Guido Catalano, Janahdan, Jo Squillo, La Municipàl, Antonio Langone, Roberto Lipari, Francesco Locane, L'Orange, Malika Ayane, Pau (Negrita), Giorgina Pilozzi (Collective Angelo Mai), Piero Pelù, Tommaso Sacchi, Scarda, Micaela Tempesta, Tosca, Valentina Pitzalis, Vasco Brondi, Valerio Vigliar (Collective Angelo Mai).
Regarding the initiative, Roy paci, which - in the course of #STAYmONday - will be committed to presenting and interviewing many artists of the Italian independent scene, he said: "Happy to be alongside KeepOn for this virtual relay race among many artist friends, actors, writers and thinkers who with great willingness have joined the initiative to make visible and shareable the difficulties of a sector that needs concrete help to get back live on our beloved stages. And from behind the scenes we also want to bring out the voices of many women who, while staying at home, suffer unacceptable violence, also giving concrete help through a fundraiser dedicated to them. A new starting point for a sector that wants to respond with energy and unity ".
"I joined with great pleasure the KeepOn Live call for this great final party that puts on the net many cultural realities of our country, bringing many hours of musical and literary content into our homes, to address some thorny issues, first of which violence housekeeper. I took charge of the part dedicated to words entrusting it to musician friends, authors and actors close to me. Words are a source of great inspiration, a source of comfort but also extraordinary weapons to defend what we believe is right or denounce what we find wrong. I hope that this day will serve to nourish ourselves with many good words in this difficult moment and to keep them so as not to forget and treasure this experience " adds Rodrigo d'Erasmo.
Unlike what has happened so far with the #StayON live shows - for which each club or festival has managed the virtual stage with its own artistic programming - the relay on April 13 will be broadcast on the KeepON Live facebook page to "unified networks" on over 50 virtual stages that have joined the initiative.
The idea of #STAYmONday was created to bring to conclusion this live and sharing adventure born on March 16, expanding and strengthening the objectives that accompanied the initiative: after the promotion of fundraising for health organizations throughout the country, April 13 is dedicated to D.i.Re "Women on the Net against violence" and an Easter Monday "together" with twelve hours of music and performance to restore Live Clubs and Festivals to their role as social aggregators and promoters of culture, even if only virtually in this case.
The relay idea #STAYmONday therefore stands as an ideal closing point for a communication path, but it is also and above all the starting point for the many ideas disclosed in recent weeks to recognize the social and cultural role that the music industry plays every day from vivo performs for our country. Supply chain of which Live Clubs and Festivals are the basis: these categories, numbers in hand, produce work, spread culture, create aggregation and allow human beings to express themselves, be they audiences or artists. y
On 8 April KeepOn Live presented the report to the competent Ministries "Covid-19 emergency, requests to protect the Live Club and Festival categories" available for consultation Thu https://bit.ly/KeepOnLIVERichiesteTuteleCategoria
"It was not easy to find the right words and ways to publicly spread the dramatic moment of our sector - declares Federico Rasetti, KeepOn Live Director - Communicate it, in this very dark moment, in a light but not superficial way. The donations collected, the response from the media, institutional partners and above all the many messages of affection and thanks from clubs, festivals, artists, technicians and professionals make us say that we have achieved our goal.
This initiative has shown how much Live Club and Festival spaces can count when united, how much power they have in terms of aggregation, dissemination and production of culture, messages and hope. These spaces must be recognized by the legal system, so that they can continue to give work to show business professionals and allow the public and artists to express themselves. Work and the right of expression, both inalienable rights of the human being. This is what we are talking about, about people.
All this has been possible thanks to many "steps forward", from the many realities that have spent and let themselves be involved in this initiative. This is also the hope I have for the future, for tomorrow: that the logics of their gardens will be left aside and that everyone will take steps forward in involvement for higher purposes ".
The live streaming of the event will be handled by Plesh.
They have decided to be partners of the initiative: SMEs, Pasolini workshop, FIMI e Doc Services.
Partner of #STAYmONday Sara Frame - Scientific digressions, Turin collective specialized in scientific communication and dissemination, who organized the meeting between Roberta Villa (on Instagram @robivil, Journalist with a degree in medicine and surgery, recently appointed to the Prime Minister's task force against disinformation on Covid-19) and Fabiana Zollo (researcher on online information flows of the Department of Environmental Sciences, Informatics and Statistics of the Ca 'Foscari University of Venice, also a member of the Prime Minister's task force against disinformation on Covid-19) moderated by the journalist Alberto Agliotti for Frame - Scientific digressions.
Another important intervention by #STAYmONday it will be that of Soleterre, the only NGO currently engaged, with a team of 10 psychologists, in the Covid-19 departments of the San Matteo Hospital of Pavia to assist not only patients and their families but also doctors and nurses. On the occasion of the day of April 13, he will speak from 15:30 to 15:45 directly from the hospital on Dr. Damiano Rizzi, president of Soleterre, to tell us his testimony alongside those who at this moment need listening and emotional support more than ever.
Due to the delicacy of the topics covered, the organization of #STAYmONday has relied on the advice of Dr. Giovanna Schittino, psychotherapist and psychologist from Palermo, specialized in the prevention and contrast of gender-based violence, who collaborates with various Italian organizations. Human rights activist through the project wonder therapist deals with scientific dissemination in reference to psychology.
#STAYmONday will promote campaigns #noneexcluded dedicated to the more than 200 thousand intermittent entertainment workers excluded from the Legislative Decree 18/2020 "Cura Italia" e #call us, a platform that collects the availability of technicians - and not only - of the entertainment world capable of specific skills and professionalism to operate in any context and in a very short time to build structures in safety. In this regard, during the day of April 13, Rodrigo D'Erasmo will meet at 12.00 Tommaso Sacchi, Councilor for Culture, Fashion, Design of the Municipality of Florence e Emilio Simeone representative of the project #call us.
The artists - Italian and foreign - who were the protagonists of the live shows of #StayON are: Angelica; Any Other; A Toys Orchestra; Cesare Basile; Bebo (The Social State); Paolo Benvegnù; White; Fabrizio Cammarata; Stef Kamil Carlens (dEus); Nicolò Carnesi; Guido Catalano; Giulia Cavaliere; Ascanio Celestini; Daniele Celona; Cimini; Cisco; Emidio Clementi; Pier Cortese; Cosmos; Roberto Dell'Era; Francesco Di Bella (24 Grana); DJ Bone; Federico Dragogna (The Ministers); Españat Circo Este; Eugenio in Via Di Gioia; Daniele Fabbri; Fast Animals and Slow Kids; Finaz (Bandabardò); Alberto Ferrari (Verdena); Folkabbestia; Alberto Fortis; Jeremiah Fraites (The Lumineers); Enrico Gabrielli; Leo Gassmann; Cherry Cat Against The Great Cold; Giancane; Giorgieness; Michela Giraud; Ettore Giuradei; Gnut; Lodo Guenzi (The Social State); Giovanni Guidi; Mark Hart (Supertramp and Crowded House); Hipster Democrats; The Neighborhoods; Lorenzo Kruger; Laago; Madaski; Pino Marino; The Municipàl; Levant; Roberto Mercadini; Marianne Mirage; Erica Mou; Roy Paci; Ketty Pass; Eva Pevarello; Carmelo Pipitone; Federico Poggipollini; Marina Rei; Renzo Rubino; Samuel; Scarda; Pino Scotto; Selton; Davide Shorty; Sipolo; Jesse Smith; Giovanni Succi; The Niro; Giovanni Truppi; Margaret Vicar; Steve Wynn (The Dream Syndacate); Zibba.
Waiting for Easter Monday, every day, from 18.00 to 20.00, with #StayON live broadcasts are broadcast on 10 channels, each of which is made up of several live clubs and festivals that broadcast their respective live programs identifying themselves with a color of the rainbow. Rainbow that represents hope and welcome, the conceptual foundations of our sector par excellence, a very current symbol in this difficult historical period. THE live club who have joined with their virtual spaces are: Arci La Freccia - Former Slaughterhouse (Aprilia-LT); Binary69 (Bologna); Blackstar (Ferrara); blah blah (Turin); Bloom (Mezzago-MB); DOG (Genoa); Cap10100 (Turin); Circle Framework (Citadel-PD); Vekkio Cinema (Corneliano d'Alba-CN); Object (Ravenna); Quarantine cultures (Belgium); Deliri Cafe Bistrot (Sora-FR); Demode (Bari); Red Devil (Asti); Molloy Distillery (Brescia); 102 Factory (Palermo); Fat Art Club (Terni); Off topic (Urbino); Germi (Milan); Hall (Padua); The Candelai (Palermo); Inkiostro - Church Unplugged Session (Cori-LT); Lanificio 25 (Naples); Long Venue (Rome); Molloy Dairy (Brescia); Gothic Line (Ferrandina-MT); Cinema Lumière (Pisa); A thousand and one notes (Sunrise); Mikasa (Bologna); Mood Social Club (makes-CS); Off Topic (Turin); Punk Funk (Palermo); Retronouveau (Messina); Rock in Rolo (Rolo-RE); So Good Sofa (Turin); Space23 (Gallarate-VA); Space Astra (Perugia); The Mad Dog Social Club (Turin); Thirty Ants (Rome).
Not just clubs, however, many also Festival from all over Italy who have decided to participate in #StayON: Whale Festival (Genoa); Cinzella Festival (Taranto); Color Fest (Lamezia Terme-CS); Comic Festival (Perugia); Fans Out Festival (Nizza Monferrato-AT); Sounds of Brand Festival (Treviso); gARTen (Reggio Emilia); Happening of Social Cooperatives (Bergamo); Here I Stay Festival (Mogoro-OR); Indigenous Festival (Patti-ME); Indievisible Festival (Torano Nuovo-TE); Music Can Make Festival (Caserta); Moon in June (Perugia); QuIndie Festival (Perugia); Reload Sound Festival (Biella); _resetfestival (Turin); River Rock Festival (Assisi-PG); Six Festivals (Lecce); Sub Cult Fest (Padua); Sounds Against the Wind (Mount Cucco-PG).
#StayON many press offices have worked and continue to work in a single large virtual table: Angelicimedia, Astarte Agency, Babel Agency, Big Time, Daccapo Creative Agency, Fleisch Agency, GDGPress, Elliefant, Hungry Promotion, Libellula Music, Sfera Cubica, SiddARTa Press. The involvement of several realities within this project demonstrates, perhaps for the first time, the compactness and centrality of a world, the musical one, which only wants to start again in the right way.