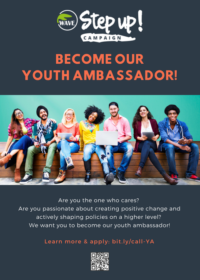 It is aimed at young people between 18 and 27, who are comfortable with the English language and who want to have a transformative political experience in the field of women's human rights in the company of peers from all over Europe, the invitation to submit applications to become Youth Ambassador of the Step up! Campaign by WAVE, Women against violence Europe, the European network of anti-violence centers.
Step Up! it is a European campaign aimed at stepping up forces - hence the title Step Up! - to combat violence against women through positive social change that contributes to overcoming gender discrimination.
To apply, in addition to the requirement of age and good knowledge of the English language, it is necessary be willing to volunteer for a period of 2 years in a group peer to peer European by contributing creatively to the construction and dissemination of an awareness campaign on women's rights and on the prevention of male violence against women.
Having previous experience in this field, as a volunteer or worker in a refuge or in other forms, is a necessary, but not essential, requirement. It matters more the desire to really make a difference and good familiarity with social media.
Step up! is a European project involving 46 countries, carried out in Italy by D.i.Re. As part of Step up! the competition was launched in 2016 "We see the violence" and in 2017 the video "The Italian language of signs against violence", designed to help deaf women experiencing violence out of the isolation that often accompanies their condition.
The Call to become a Youth Ambassador is open until 21 September 2018.
The names of the lucky Youth Ambassadors will be announced on October 3rd.
It is enough to apply fill in the form available here.