The Position Paper was presented on 9 July in Rome The change we want. Feminist proposals 25 years after Beijing, drafted by a large group of feminist women active on various topics - representatives of feminist and women's associations and organizations, civil society organizations and NGOs, as well as individual experts - coordinated by D.i.Re Women on the net against violence.
Moved by the urge to react "to one marginalization of women has now become unsustainable, after that in the first 6 months of this year women practically ruled this country ", as he pointed out at the beginning Antonella Veltri, President of D.i.Re, the 68 experts organized the proposals following the 7 critical areas identified by the United Nations to relaunch the vision and progress generated by the Beijing Declaration and Platform for Action, adopted unanimously by all governments of the world:
Inclusive development, shared growth and decent work
Poverty, social protection and social services
Male violence against women
Participation, accountabilityand institutions gender responsive
Peaceful and inclusive societies
Protection, conservation and regeneration of the environment
Institutions and mechanisms for gender equality
"Twenty-five years ago, on the occasion of the IV World Conference on Women in Beijing, the promise of equality was launched to the world with a clear indication of what women's rights were to be realized," Veltri continued. "Today with the Position Paper we want to reiterate with total clarity and authority that without women the system fails".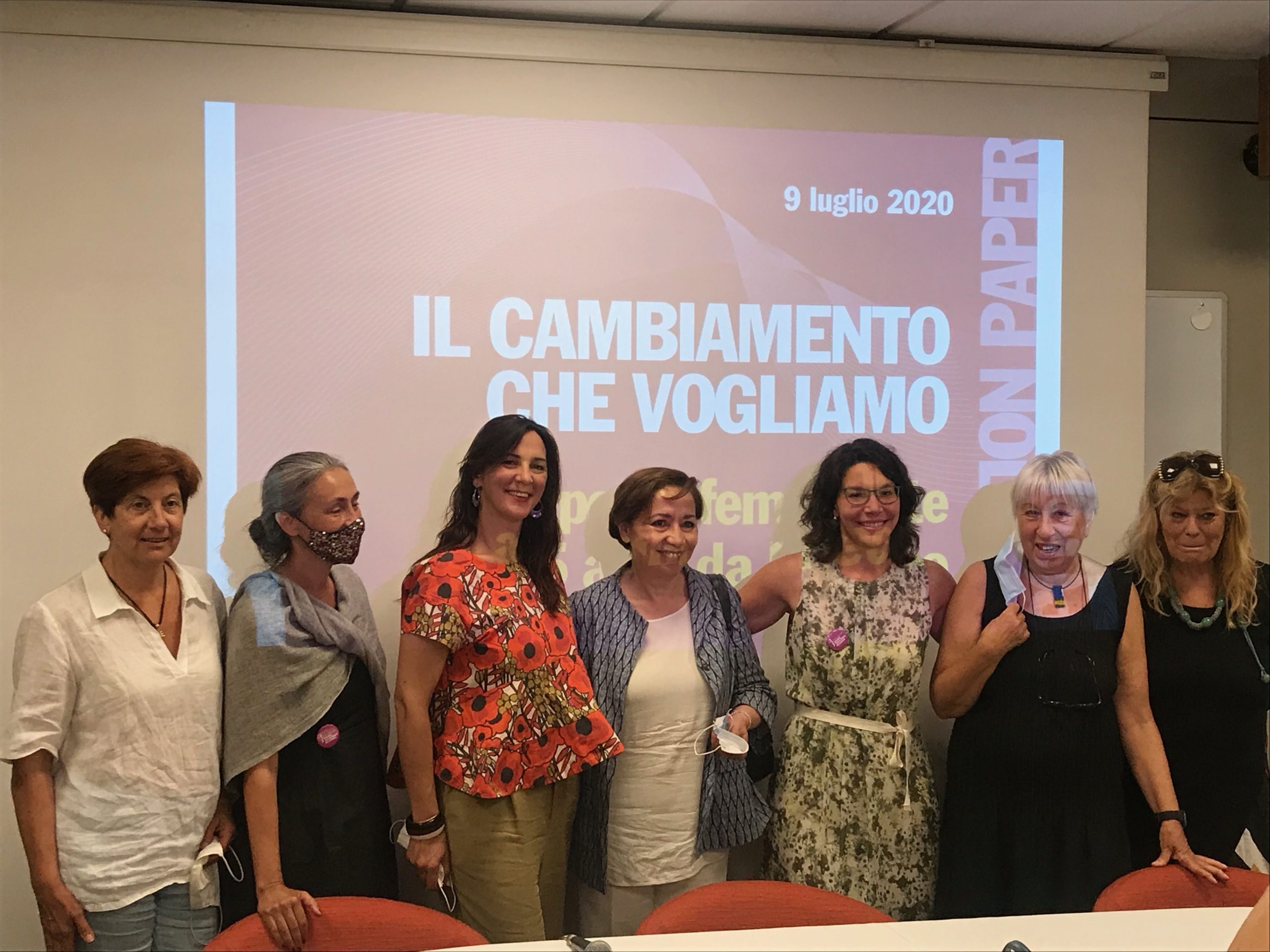 "Before the pandemic, the world had become much richer, but much more inequitable than it had been since World War II," he recalled. Daniela Colombo, development economist, of Effe Feminist magazine, introducing the context in which the Position Paper was born. "In about twenty years an enormous wealth has been concentrated in the hands of very few subjects, and in a frame of unbridled hyper-liberalism the power relations in the States and between the States have changed with a particularly negative effect on the enjoyment of human rights and on the environment".
Claudia Pividori, human rights expert of the Veneto Center for Women Projects, who together with Elena Biaggioni, contact person of the Advocate Group of D.i.Re, Marcella Pirrone, lawyer of D.i.Re and president of WAVE - Women Against Violence Europe, e Alice Degl'Innocenti, vice president of Vivere Donna di Carpi, edited the Position Paper "these 7 areas must become the fulcrum of a new political agenda. The measures must be able to affect the patriarchal socio-cultural structure, questioning the social norms and the economic and social assets that make women invisible and deny their value ".
Among these measures, Giovanna Badalassi, economist of Ladynomics, relaunched "the gender budget, a fundamental tool at this moment in which Italy will have to decide how to invest 300 billion in aid from Europe, an opportunity that cannot be missed after 20 years of experimentation at the level of public administrations, companies and universities ".
The "hot" topic of the moment, after months of smart working and unpaid care work for women that allowed the management of 3 months of lockdown, it is female occupation, "which is realized if it is intervenes on a multiplicity of levels that only if combined can have a significant impact", has explained Stephanie Pizzonia, president of LeNove, "starting with a territorial system of services for the care of children and other dependent persons".
However, the main problem remains "the sexist stereotypes that continue to be the main obstacle to the enhancement of women's skills which in reality are active in all fields with excellent results ", Pizzonia reiterated. "Investment in women could - according to some estimates by the Ministry of Labor itself - generate an increase of 1 or 1,5 percentage points of GDP".
"The de-financing of health systems, which has created large disparities in access to health at the territorial level, combined with the ferocious attack carried out by fundamentalist conservative movements on women's freedom is having a dramatic impact on women's reproductive rights", has explained Stephanie Graziani, sociologist of SNOQ-Turin. "Guidelines and training on gender-specific medicine, competitions reserved for non-objecting doctors, universally free contraception, prevention and education on sexual and reproductive health in schools, a public information system on contraception and IVG", are among the concrete proposals listed by Graziani to overcome "an increasingly serious denial of women's self-determination in relation to their body".
Stereotypes and sexism "are the cultural root of male violence against women", he stressed Oria Gargano, president of BeFree, recalling that "it is necessary urgently review the criteria with which anti-violence centers are accredited, in order not to deny their fundamental resource, that is the relationship between women that nourishes the paths of escape from violence, transforming them into welfare services and not spaces for women empowerment". The PAS "must definitively leave the courts"Gargano added, "by investing in adequate training for all operators in the judicial system".
Maria Grazia Giammarinaro, judge of the GIUdIT association and Special Representative of Nations for the trafficking of human beings, "in the face of trafficking, which involves thousands of women on the Italian territory, it is necessary to recognize the skills and abilities of the many women who are instead agents of empowerment. The Italian state, which had one of the most advanced and effective laws on the subject, it must go back to applying it without conditioning, that is, without bartering social support to report traffickers, which not all women are able to do ".
"One's Intersectionality perspective must be considered in all issues addressed by the Position Paper ", reiterated the anthropologist Marina Della Rocca, "to grasp the forms of violence carried out on an institutional level that are exacerbated by forms of discrimination and stereotypes that affect all women, but in particular those who are on the migratory path ". This is why the Position Paper asks "to make effective access to the residence permit pursuant to art. 18bis in cases of domestic violence without conditioning it to report the perpetrator, and to develop a reception system that allows the early identification of vulnerabilities to facilitate access to protection measures, including refugee status ".
"The representation of women cannot continue to betray the reality of their lives, justify male violence, minimize hate speech and body shaming," he said. Mimma Caligaris, sports journalist, president of the Equal Opportunities Commission of the National Press Federation and vice-secretary of the Union of the Italian sports press. "We demand a rigorous application of the Venice Charter, an Observatory on the media, and the widespread training not only of those who work in the media but in all public administrations, so that the adoption of a gender language finally becomes practice. Lawyer, doctor, mayor are Italian words ".
"With the lockdown nature is reborn, confirming the dramatic impact of human activity on climate change and natural ecosystems ", he pointed out Laura Cima, former parliamentarian, ecofeminist and founder of IF Feminist Initiative. "The key word to change this trend is care, starting from the experience of women who are already widely active in the most innovative and eco-sustainable agro-food sectors, for a change of approach that can no longer be postponed ".
Elena Biaggioni, criminal lawyer of the Trento Women's Coordination and contact person for the Advocate Group of D.i.Re, who coordinated the press conference, concluded by inviting "to make the Position Paper a working tool capable of uniting, creating alliances, developing concrete dialogue actions with institutions, such as women's organizations and civil society have shown that they know how to do. Because discrimination is double damage, for women and for society".
To the Position Paper "The change we want. Feminist proposals 25 years after Beijing "contributed by experts from numerous organizations belonging to the network D.i.Re and Action Aid, AIDOS, Amnesty International, Be-Free, CGIL, COSPE, Difference Woman, Donne in Quota, Donne in nero, DonnexDiritti Onlus, Effe-Feminist magazine, Escapes, LEDHA FISH and FISH, CPO FNSI, USSI, Forum Associazione Donne Jurists, GIUdIT, GiULia, IF, Ladynomics, LeNove, Orlando Association, Coop. Soc. PARSEC, SCoSSE, CPO Order of doctors, Italian association of doctors, SNOQ Turin, USIGRai, University of Padua and AGEMI project, University of Modena and Reggio Emilia, University of Bologna and Alice project, Italian network for contraception and abortion Pro Choice, as well as some independent experts.
They have already joined the Position Paper AMICA - Association of Italian Doctors Contraception and Abortion, ANDE - National Association of Electric Women, AOI - Association of Italian NGOs - International Cooperation and Solidarity, ARCI Nazionale, Waiting for tired, International Women's House - Rome, Center for Documentation and Information on Gender Health - Brescia, University Center for Studies on Gender Medicine - University of Ferrara GMC-UNIFE, Center for Women's Studies "Milly Villa" of the University of Calabria, Concord Italy, GenPol - Gender & Policy Insights - Cambridge (UK) and Naples, Italian Global Health Network, We Women Network, Bread & Poppies, Human Beings First, Step Up! Campaign - WAVE, Telefono Rosa Piemonte - Turin, Terni Donne - Casa delle donne di Terni, UIL - Coordination equal opportunities, WAVE - Women Against Violence Europe, WOMEN - Women of the Mediterranean and Eastern Europe Network
D.i.Re he participated in the drafting of the Position Paper with the contribution of the Kering Foundation