School of Politics of Anti-violence Centers
Orietta Paciucci *
The School of Politics of Anti-violence Centers reaches its third edition in the conviction that acting a women's policy for women is the only guarantee of the presence and recognition of the Centers.
Recognition, unfortunately, blurred and not protected by government action increasingly inclined to legislate in an emergency way, disregarding the Istanbul Convention and European practices.
Despite this, the Centers D.i.Re they have proven to be rooted, to withstand over time and to have a firm projection into the future.
Perhaps it is precisely this capacity of resistance that unites them to a notoriously tried territory, such as that of L'Aquila, and to its women that this territory has in any case been able to defend and reconnect. They will be welcoming us for the three seminar days next June.
Some of us in 2011 and 2015 participated in the days in L'Aquila, organized by the women's movement, now an association, TerreMutate and by the CAV, we have variously shared the long journey that recently led them to inaugurate the Casa delle Donne, where the Center and the historic Women's Library founded in 1987 have found hospitality. This is a provisional solution pending the restructuring, over which the TerreMutate supervise, of an ancient building near the Basilica of Collemaggio, the definitive seat of the House.
In the seminar all of us, operators of the anti-violence centers, meet to reflect and broaden our critical view on the differences and critical issues that cross us:
the "grow to grow", the inertia of our practices, the problems of internal democracy.
The themes identified for elaboration and discussion in the groups are: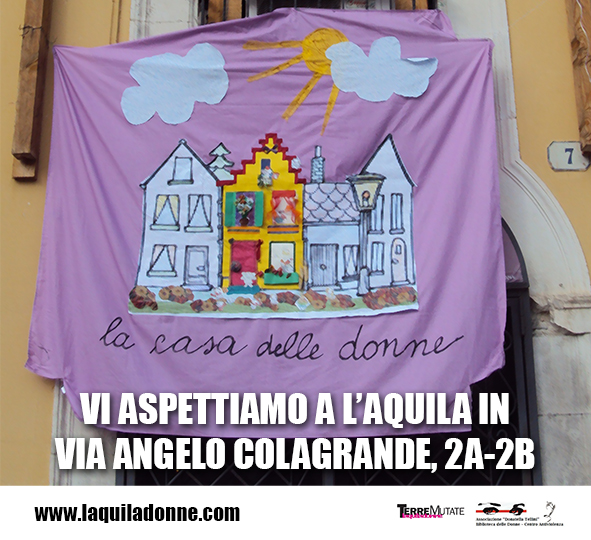 1) Anti-violence centers: spaces for feminist elaboration, formation and transmission of our knowledge (this first group should explore the crux of how much we have become an "institution" to the detriment of our political action, how much we manage to catalyze young women by accepting the need to work and then opening up to them the horizon of feminism, how we face or suffer the problems of internal democracy)
2) Survival and endurance strategies (this second group should critically reflect on our differences and difficulties to understand how to face institutionalization by reinforcing our cultural demands)
3) What is our specific methodology that differentiates us (this group should focus on the methodology starting from the role of operators, lawyers and psychologists)
4) The relationship with migrant women (this group should address the specific ways of working and the involvement of migrant women and the additional forms of violence they encounter, trafficking, forced marriages, FGM, different forms of segregation).
Download the program (pdf)
Donatella Tellini Onlus Association, L'Aquila