7 March 2020 - "The data of the anti-violence centers D.i.Re, with the significant increase in new accesses during the year, once again confirm how important it is to continuously support these structures, an essential protection that allows women who have been subjected to violence to recover their autonomy and which remains open also in these structures. Coronavirus emergency times, because violence against women does not stop ".
So Antonella Veltri, President of D.i.Re, Women in Network Against Violence, the national association of anti-violence centers run by independent women's organizations, presents the data released on the occasion of International Women's Day.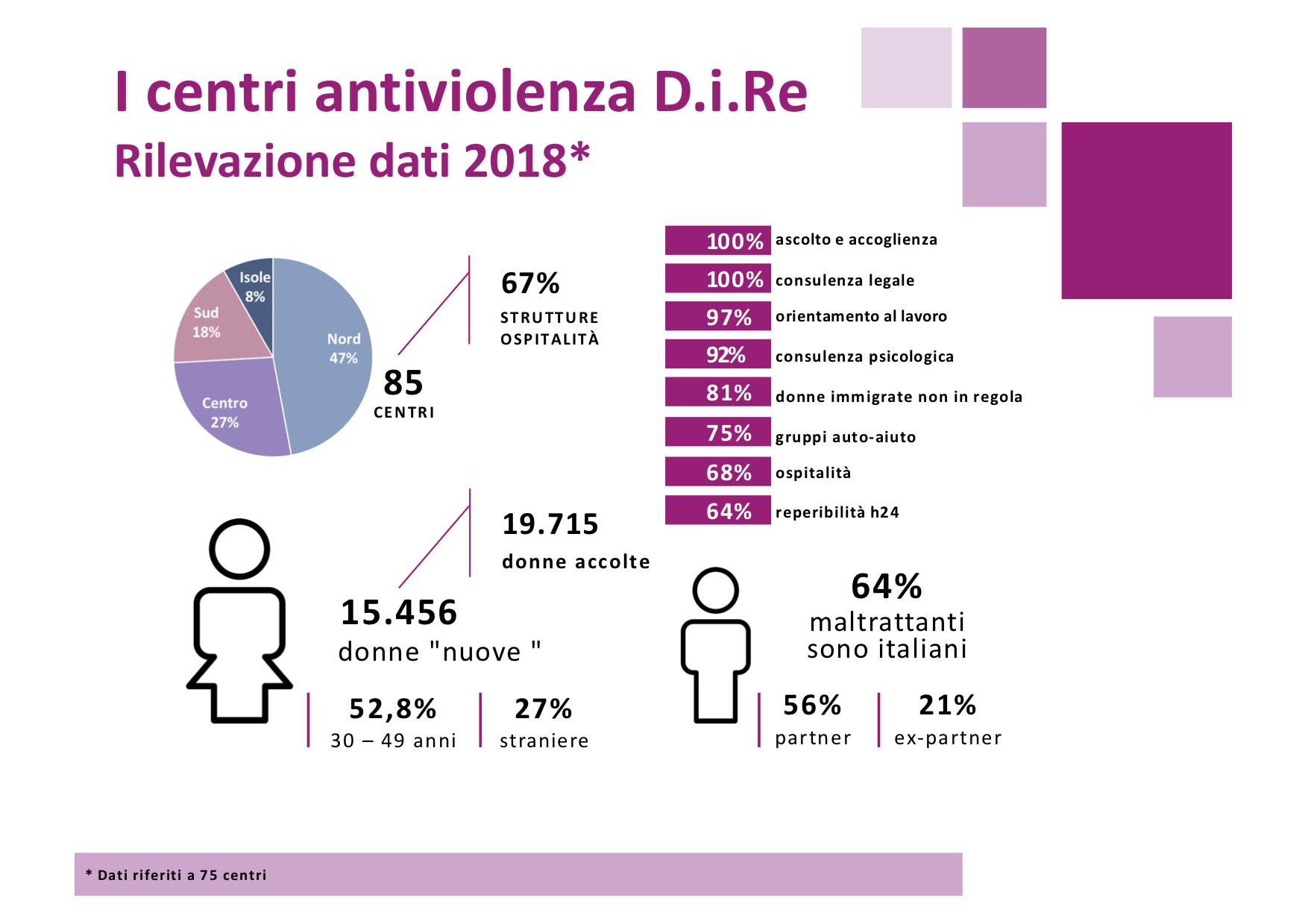 In 2018 "D.i.Re it welcomed nearly 20.000 women (consolidated figure compared to 2017) of which about 15.500 "new" women, who made the first access to the refuge during the year. This figure shows a significant increase compared to the previous year: 1.500 new accesses in one year, equal to an increase of 11 percent", explains Paula Sdao, who took care of the statistical survey together with Sigrid Pisanu.
The data, referring in total to 75 out of 85 anti-violence centers, recorded significant percentage increases in the types of support offered, in particular as regards work orientation (11%) and self-help groups (7%). "To be highlighted the ability of the centers to offer support to immigrant women who are 'not in good standing' in 81% of cases"Sdao points out.
The data once again confirm the "profile" of the woman who has suffered violence and chooses to go to an anti-violence center: she has aage between 30 and 49 in over 50% of cases and is of Italian nationality in 73% of cases.
Male violence against women is almost entirely, in continuity with previous data, domestic violence. The perpetrator of the violence is, in fact, in most cases the partner, ex-partner or other family member (56%, 21% and 10% respectively) and of Italian nationality (64%).
The violence exerted on women is predominantly of psychological (79%), physical (61%) and economic (34%) type, percentages now consolidated over the years.
"Just these days D.i.Re launched the campaign 'Violence against women. What state are we in? ' to draw the institutions' attention to the importance of fully implementing the Istanbul Convention following the recommendations of GREVIO, the Council of Europe's Group of Experts on Violence Against Women ", concludes President Veltri. "These data are one more reason to urge this commitment, precisely in the days when the Coronavirus emergency has deprived women of the streets where they can make their voices heard".