Male violence against women takes many forms and modalities, although physical violence is the easiest to recognize. There is no profile of the typical woman who suffers violence. Violence can affect all women.
> PHYSICAL VIOLENCE
It includes the use of any act guided by the intention to harm or terrify the victim. Acts attributable to physical violence are:
throwing objects
shoving
slaps
bites, kicks or punches
hitting or trying to hit with an object
beatings
suffocation
threatens with a firearm or stabbing weapon
use of a firearm or stabbing weapon
These forms recur in the crimes of beatings, personal injury, private violence, trespassing, kidnapping.
> SEXUAL VIOLENCE
It includes the imposition of unwanted sexual practices or relationships that are physically hurtful and harmful to dignity, obtained through threats of various kinds.
The imposition of sexual intercourse or unwanted intimacy is an act of humiliation, oppression and subjugation, which causes deep psychic as well as physical wounds in the victim.
> PSYCHOLOGICAL VIOLENCE
It includes all forms of abuse that harm the woman's identity:
verbal attacks such as derision, verbal harassment, insult, denigration, aimed at convincing the woman that she is "worthless", to better keep her under control
isolate the woman, remove her from supportive social relationships or prevent her access to economic and non-economic resources, in order to limit her independence
jealousy and obsession: excessive control, repeated accusations of infidelity and control of his acquaintances
verbal threats of abuse, assault or torture against the woman and / or her family, children, friends
repeated threats of abandonment, divorce, starting another relationship if the woman does not fulfill certain requests
damage or destruction of objects owned by the woman
violence against animals dear to the woman and / or her children
It is important to remember that in times of anger we can all use provocative, outrageous or contemptuous words, we can act out of place but usually followed by remorse and repentance. In psychological violence, on the other hand, it is not a question of a momentary rush of anger but of a constant and intentional torment with the aim of subduing the other and maintaining one's power and control.
> ECONOMIC VIOLENCE
Such violence is often difficult to record as a form of violence. It may seem normal and obvious that the management of family finances is up to the man. Economic violence is defined as:
restrict or deny access to family finances
hide the patrimonial situation and the financial resources of the family
prohibit, hinder or boycott women's work outside the home
fail to fulfill the maintenance duties established by law
exploit women as a workforce in the family business or generally without
give in exchange any kind of remuneration
appropriate the savings or earnings of the woman's work and use them to one's own advantage
implement any form of legal protection for the exclusive personal advantage and to the detriment of the woman (for example the registration of properties).
This form of direct control, which limits and / or prevents the economic independence of women, often does not allow the removal from a destructive relationship of maltreatment.
> STALKING
Indicates the controlling behavior put in place by the persecutor towards the victim from whom he was rejected (mainly it is the ex partner). Often the stalker's conduct is underhanded, aimed at harassing the victim and placing her in a state of subjection, with the intent of compromising her serenity, making her feel hunted, however not free.
> MECHANISMS OF VIOLENCE
Contrary to popular belief, the most widespread violence is that which occurs within the home, or within the family. Domestic violence consists of a continuous series of different actions but characterized by a common purpose: domination and control by one partner over the other, through psychological, physical, economic, sexual violence.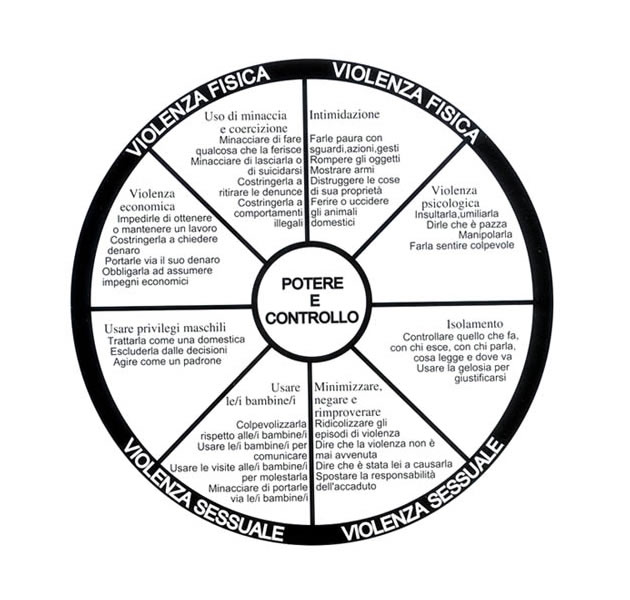 The mechanism that best defines the phases of a condition of domestic violence suffered by a woman is called "spiral of violence" or "cycle of violence"To indicate the ways in which the violent man reaches his goal of submitting his partner by making her feel incapable, weak, helpless, totally dependent on him. The phases of the spiral of violence can present themselves in a crescendo and then "mix". Isolation, intimidation, threats, blackmail of children, physical and sexual assaults often alternate with a phase of relative calm, of false reconciliation, with the aim of confusing the woman and weakening her further.
> VIOLENCE IN THE WORKPLACE
> MOBBING
> VIOLENCE WITHIN THE FAMILY
> VIOLENCE OUTSIDE THE FAMILY - AT SCHOOL
> ASSISTED VIOLENCE
> MALTRACTING MEN