The European network against violence against women WAVE in collaboration with D.i.Re, as part of the campaign Step Up! launches a video contest for young people against violence.
Videos can help raise awareness on the issue of violence against women and help women find exit solutions by presenting the services available on the national territory, eg toll-free number 1522, anti-violence centers, etc.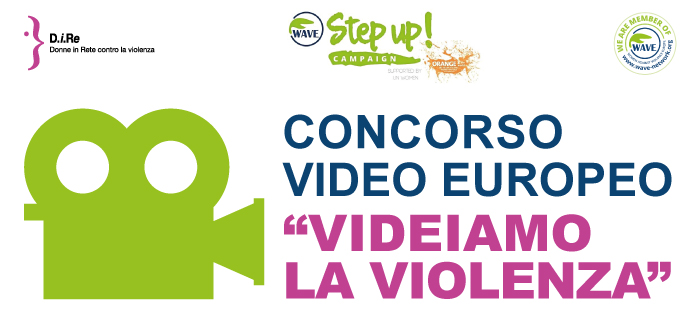 CONTENTS
The competition intends to sensitize citizens and the new generations to this vast topic submerged in violence against women and encouraging those who suffer violence to seek help.

Participants are asked to focus the scripts on the process that women / girls face they face in order to free themselves from the cycle of violence, the resources present / absent on the territory to which they can ask for help.

There are no technical limitations (music, animated, theatrical) and the videos can be made with any support.
REGULATION
The competition is open to young people between 18 and 25 years old
The duration is a maximum of three minutes
To re-enter the European competition they must be subtitled in English
The videos must be unpublished
The soundtrack must be original or outside the rules of copyright
The video application form must be sent downtown the November 19 2016 (has been extended for one week) to: direcontrolaviolenza@women.it
AWARDS
D.i.Re will nominate a jury made up of female directors and experts on violence to be tasked with select the 3 finalist videos and the Italian winner / trice.
The 3 videos will be used in the social promotion campaign against violence against women from part of D.i.Re and WAVE.
The winner / winner will be invited to participate and compete in the European competition that is will take place in 2017 at the European Parliament, Brussels. Travel costs will be covered by WAVE.
Awards:

1st place / or € 300,00 and trip to the European Parliament for European competition
2nd place / or € 200,00
3nd place / or € 100,00
Download Technical Sheet (pdf)
Download Registration Form (word)