D.i.Re and Yves Saint Laurent Beauty Italia have entered into a partnership within the global program to fight violence in intimate relationships Abuse is not love, that the company is promoting. The beauty brand will support awareness and training programs of its non-profit partner. It is now known that violence in intimate relationships is a social issue of primary importance and it is increasingly important to spread awareness of its gravity. The goal is, through a widespread and collaborative understanding of violence, that participants are equipped to recognize violence.
ACTIONS
The joint work of D.i.Re with YSL Beauty Italia is based on:
1. La TRAINING aimed at collaborators, retail partners and schools in the fashion and beauty sectors, to support the creation of ever larger communities that support the fight against gender-based violence.
2. Sharing of the GLOBAL PROGRAM ABUSE IS NOT LOVE
3. Activity of AWARENESS of the media world


These activities bring with them numerous and important ones results.
The most immediate:
the people involved will have a new way and more aware to look at violence against women, acting like bearers and bearers of change in the contexts they live in.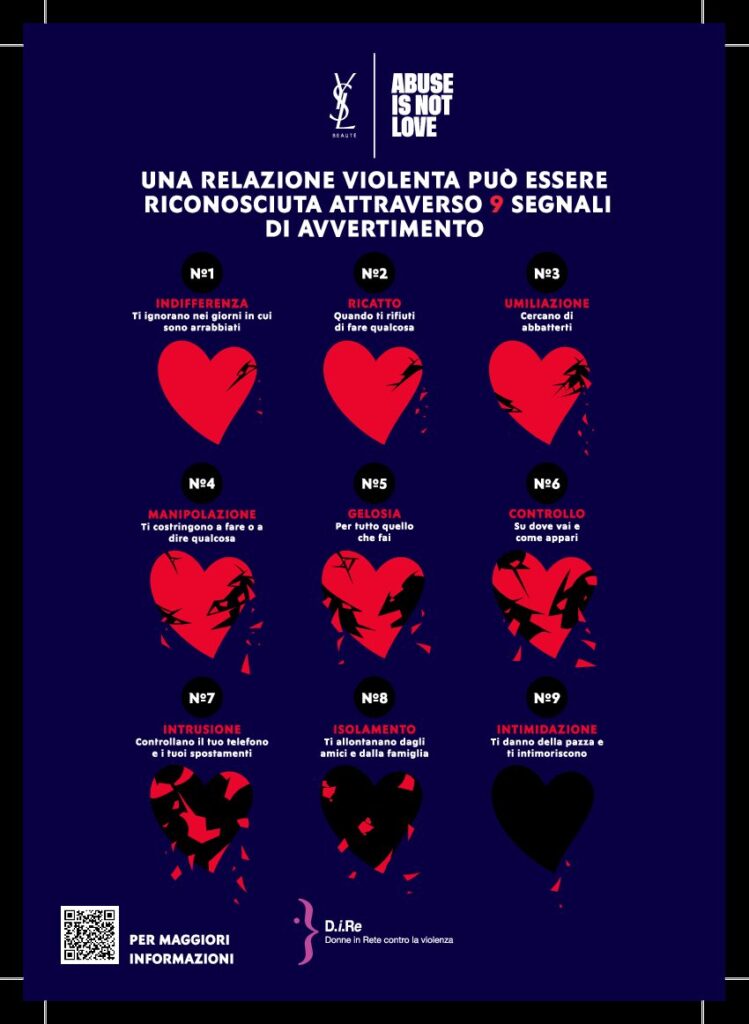 HELP US, SUPPORT WOMEN WHO SUFFER VIOLENCE WITH ONE DONATION.